RGS is pleased to present the new model of industrial vacuum cleaner for dedusting in an ATEX classified environment.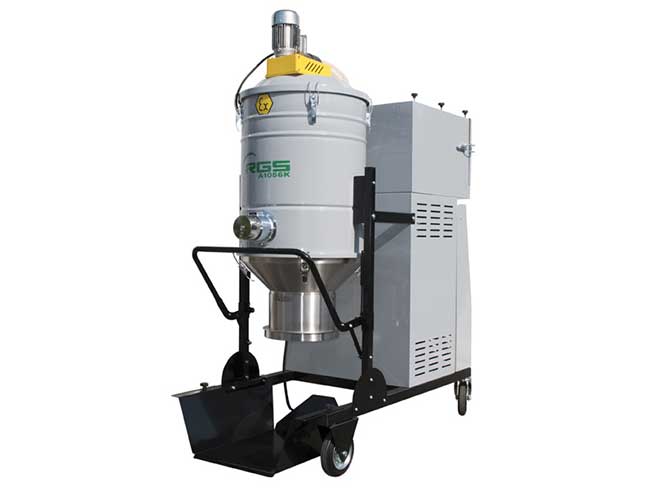 This model is a special innovation of the industrial vacuum cleaner A1056KX1.3D, suitable to be used in an environment classified as Zone 22.
This machine is equipped with a side channel blower with three phase asynchronous motor of 7.5 kW marked Ex II 3D, put in the back side of the machine, into a strong frame.
This industrial vacuum cleaner is equipped with more optional if compared with the standard one.
Instead of  the classic manual filter shaker there is an rotary electric shaker placed on the lid so to allow the automatic cleaning of the filter.
There is also an absolute filter kit, downstream, fitted with a filter in class H14 with an efficiency of 99.995%, that,  placed into an external housing, filters the air which comes out from the motor and it retains any particles releasing in the environment only unpolluted air.
Finally it is equipped with "Longopac" system, a discharge system which allows the operator to suck up the material into a bag which is directly connected to the vacuum cleaner.
In this way the operator will never get in touch with the sucked product because when the bag is full, he will seal and dispose it,  then he will apply a new one.
In this way  the operator avoids all the operations of emptying of the dust bin which can  cause the dispersion of small quantities of sucked material in the environment and their consequent inhalation by  the operator.