Industrial or professional

vacuum cleaner

?
HOW TO CHOOSE THE RIGHT INDUSTRIAL VACUUM CLEANER FOR YOUR NEEDS
The choice of a vacuum cleaner should not be taken lightly, especially if it is intended for industrial use.

Are you sure that the very low price is the right choice?
Always ask yourself whether the vacuum cleaner you are looking at will be powerful and durable enough for your specific application: most vacuum cleaners on the market are designed for suctioning light materials and for non-continuous use.
SINGLE-PHASE INDUSTRIAL VACUUM CLEANERS
when you do not need to use the vacuum cleaner continuously (max. 3-4 hours per day); RGS industrial vacuum cleaners with single-phase motors are quiet, reliable and economical. RGS single-phase vacuum cleaners are the winning weapon in all cases where it is necessary to clean and vacuum dust or liquids quickly, efficiently and for a long time.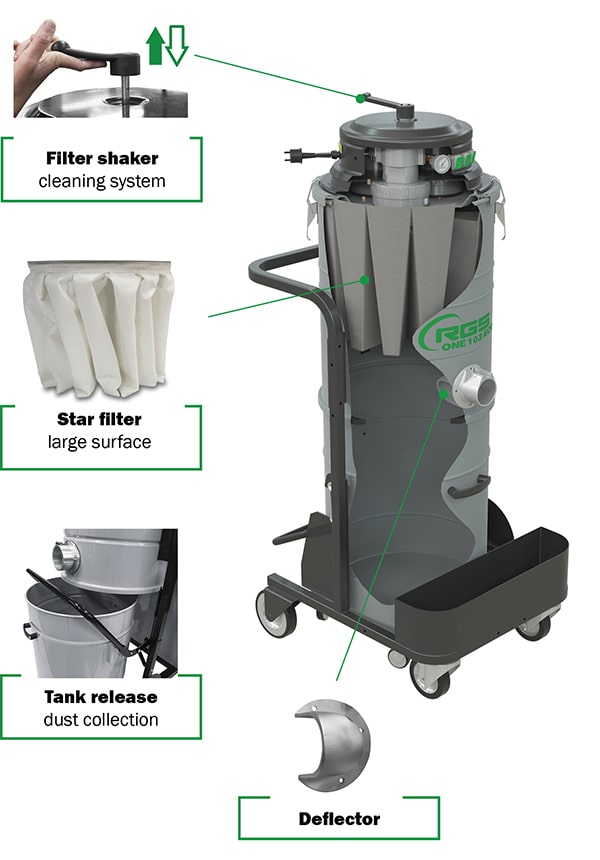 Thanks to the high suction power, the large surface filter with cleaning system and the complete range of accessories and options, this series of vacuum cleaners is perfectly suited to all working conditions, allowing the operator to reduce working time both during suction and when disposing of recovered materials. Particularly suitable for use in the mechanical, construction, agri-foodstuffs, car wash, incinerator and thermo-sanitary sectors. Thanks to its high filtering efficiency (class L as standard, M and H as an option), it is possible to recover even the most harmful dust without releasing residues into the environment and, with the aid of continuous bag or hermetic bag collection systems, the operator never comes into contact with dangerous substances.
The high quality of the components used for its assembly make it able to cope with the heaviest of uses and guarantee the same suction efficiency as on the first day, even after years of use.
Our single-phase industrial vacuum cleaners are:
✅ Compact: their vertical structure makes it possible to move easily within companies.
✅ Versatile: single-phase current is available everywhere.
✅ Industrial: the painted steel structure guarantees robustness over time.
✅ Efficient: the large star filter keeps suction unchanged and prevents clogging.
✅ Safe: the external filter shaker allows the filter to be cleaned without the operator coming into contact with the suctioned dust.
✅ Convenient: the dust collection tank detaches from the rest of the machine, allowing it to be emptied quickly and easily.
PROFESSIONAL VACUUM CLEANERS
are designed for dust and liquid extraction. The design is compact, easy to use, robust and manoeuvrable. All vacuum cleaners can be equipped with a wide range of options and accessories to make the operator's job easy, light and safe.
Our professional vacuum cleaners are:
✅ Professional compact machines for suctioning dust and liquids
✅ Tilting trolley for easy emptying
✅ Handle for easy manoeuvrability

The use of an industrial vacuum cleaner can significantly increase the safety and efficiency of your business, much more than just a professional vacuum cleaner. If you have decided to invest in a vacuum cleaner, always ask yourself whether you need a durable tool or a cheap product that may not provide the necessary reliability.
If you decide to buy an industrial vacuum cleaner, buy an RGS industrial vacuum cleaner.
For any information and questions please contact us at 

059.986833
Our sales office will be happy to answer and provide you with estimates and free site visits at your office.