VACUUM CONVEYOR VS
PRESSURE CONVEYOR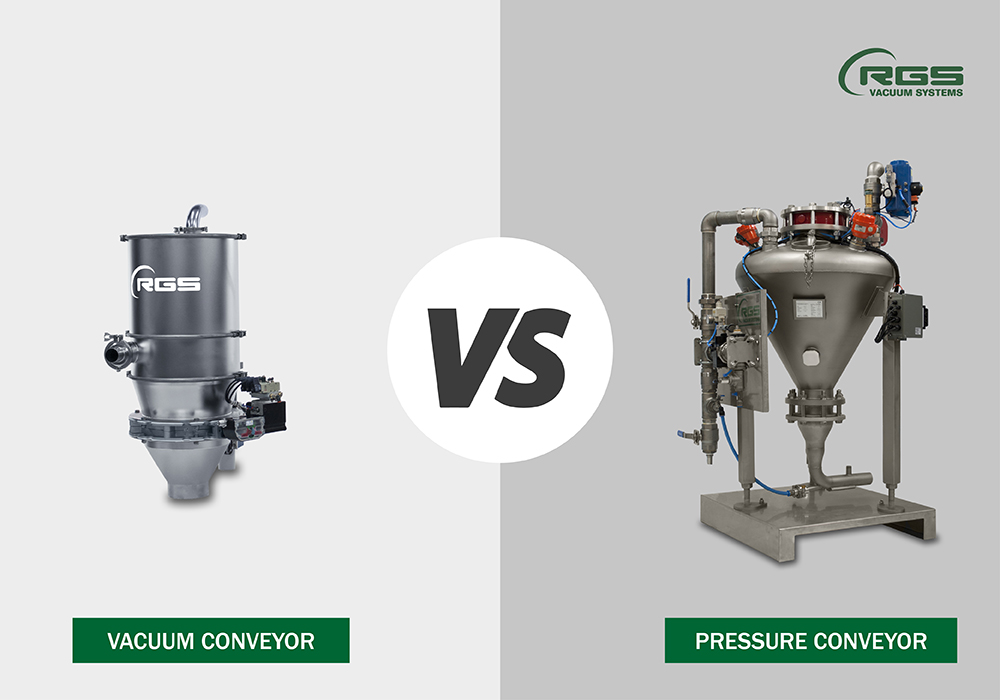 What is pneumatic conveyor?
In industrial applications it is increasingly necessary to transport granular or powder materials in fluid suspension through numerous stages of the production process.
In this regard, RGS has been developing innovative pneumatic transport solutions for all industrial realities for over 20 years.
Pneumatic conveyors transfer solid powdered or granular substances into pipes, usually circular, by means of a stream of air of adequate speed.
The fundamental distinction between the various types of pneumatic conveyor derives from the way in which the motion of the material is realized: by means of a current of air in depression (in aspiration) or pressure (in thrust).
The purpose of a pneumatic conveying system is to transfer materials from one or more points to a final destination or to a further production process; among these we can find the processes of mixing, granulation, concentration, processing and packaging.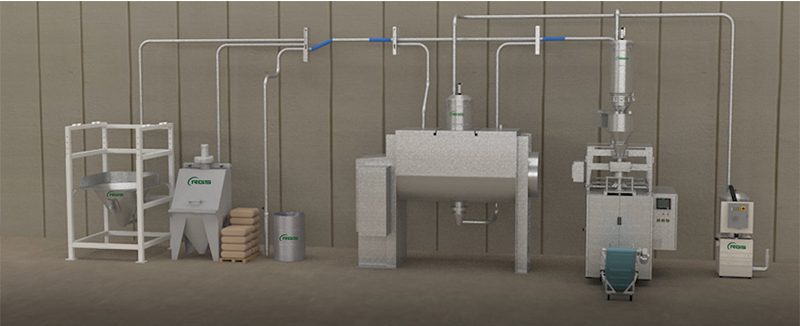 How does pneumatic conveyor work?
Pneumatic conveyor is a system widely used in industry to transfer materials at different points through closed pipelines.
Material transfer is the combination of a vacuum difference and the flow of air or gas within the pipes.
Depending on the needs, a different gas can be used, such as nitrogen, which being inert lends itself to the transport of potentially explosive materials, or for products of easy oxidation.
VACUUM CONVEYOR VS PRESSURE CONVEYOR
Vacuum conveyor
The pneumatic conveyor generates a vacuum inside the conveyor pipe and the product is sucked from the pick-up point towards the conveyor itself.
The material is taken and, by means of a transport tube, sent inside a container, where the separation between the product and the air takes place. The air sucked during transport is purified by a filter and expelled from the vacuum source. The whole process is managed by a control unit.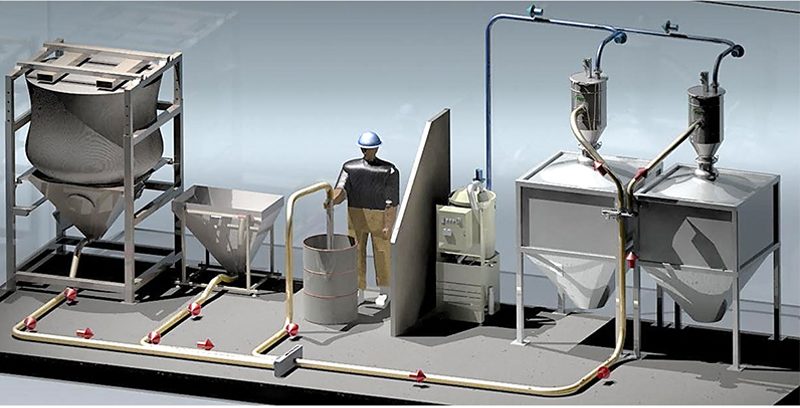 Pressure conveyor
A special feature of pneumatic pressure conveying systems is that of having the fan, placed upstream of the system, so all the pipes and the different components are in overpressure with respect to the atmosphere. Thanks to an injection system, which is connected to the pipe, the material is fed into the pipe, transported and conveyed to the destination. Depending on the needs, the product can be inserted with a rotocella seal, with an injector, and at the arrival points the product is separated from the air through filters.
The pneumatic pressure conveyors is suitable for low abrasive, non-friable and low specific weight products, and is not at all suitable for the transport of mixed products.

For any information and questions please contact us at

059.986833
Our sales office will be happy to answer and provide you with estimates and free site visits at your office.